Cartolina is a design studio based in the remote Kootenay Mountains of south east BC. We proudly sell environmentally friendly paper products to beautiful boutiques around the world.

Recently we have expanded our products into the iPhone app business and have had great fun releasing 2 apps that allow users to create and send pretty, vintage messages from their phones.






1. What inspires you to come up with new designs?



It's interesting how you worded that question. I am inspired to come up with new designs when I get positive feedback from retailers and consumers. It gives me energy to keep producing new designs. I'm fueled by enthusiasm. Now if you had asked what inspires my designs I would say that the gorgeous vintage imagery that I collect inspires me. I am restricted(in a good way) by the imagery that I have to work with - and I have lots of it. So I surround myself with the bits and pieces that I am drawn to at that moment and I start to shuffle them around until I find the magic combination. I usually release 6 to 8 cards at a time - maybe 3 or 4 times a year and I try to give each release a 'theme'. I find it easier to work around a 'theme' because I have so much imagery to choose from - that way I stay focused and don't head off on a creative tangent!






2. How long have you been creating?



I've been creating for as long as I can remember. When I was kid I always had a craft that I was into and I always had the entrepreneurial spirit - selling everything I made! In high school I won the art, the cooking and the sewing prize every year - can't say I was particularly outstanding at anything else but I excelled creatively. I have been a self employed designer since the mid 90s and have been fully involved in the greeting card industry since 2005.






3. Where do you do your work?



I work in a large design studio which is connected to the Cartolina warehouse. It's a big bright place with a great view of the mountains and the lake and we have lots of bears and deer wandering through in the summer. I am here everyday during the week from 8:30am to 5pm. It's a very motivating and inspiring place to work. We are lucky to live in such a beautiful area. Being in a fairly remote area does come with it's problems but as long as I can get gourmet food and a UPS pick up everyday I'm happy!






4. Tell us about a goal you have for your business



Right now I am thrilled to have distributors for Cartolina in 5 countries - Canada, US, UK, Australia and New Zealand. I would like to do more business in Europe. My goal in 2011 is to set up distribution in France and Germany. We have grown incrementally over the last year and I think I'm ready to rev things up again!






5. What is your favorite album?



I like lots of new music as long as it has a great melody. Recently I've been listening to Niko Case, Plan B, John Legend, Bjork, Regina Spektor. But I have been known to listen to Stevie Wonder, The Bee Gees and Queen, which is the music I grew up with!






6. Where do you see yourself in 5 years?



I hope that in 5 years I am still able to do what I love and design pretty cards from our home in the mountains. I would like to think that Cartolina would have grown some in 5 years but I never take things for granted and I know how much energy it takes to guide your business through growth spurts. So I will stay focused and try to make all the right moves.






7. What is your favorite thing to do on a weekend?



This may sound boring but I am just thrilled when I have weekends off and don't have to work. I am a total home body and proud of it. I like to cook, read and listen to music. I like to putter around the house and then go for long walks. I like cozy evenings in with Doug and a good bottle of wine!






8. Tell us about a new skill you'd like to learn



I am anxious to learn some French calligraphy or hand lettering with soft nibs(not chiseled nibs). I love the decorative work I've seen recently by some of the lettering artists and I feel that i would have a flair for a good pen and ink project. And my handwriting has seriously deteriorated in the last few years I would like to bring back some of the discipline that it takes to write well.




Find Fiona on the Web


Website and Shop
Cafe Cartolina Blog
Twitter
Cartolina on Facebook





More shots from the Cartolina Iphone App (only $1.99!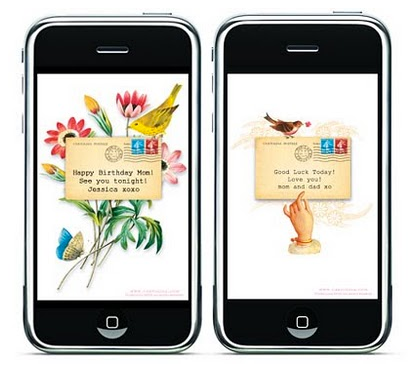 One Paper*Cakes Finds reader is going to be lucky enough to win a big box of goodies put together buy Fiona herself, approx $75 in value!

To Enter, please visit the Cartolina Shop on Modern Paper Goods and pick your fave item!

To qualify for additional entries you can..

1. Follow Fiona on Twitter
2. Like Cartolina on Facebook
3. Follow Cafe Cartolina on GFC
4. Blog about this giveaway
5. Follow this blog on GFC
6. Follow Papercakes on Twitter
7. Put my button in your sidebar
8. Tweet this giveaway
9. Purchase the Cartolina Iphone App or a card from the Modern Paper shop (5 entries, pls comment 5 times)
10. Like Paper*Cakes on Facebook

Closes Dec 13th