Kittyrobot is an online store first established in 2007 on Etsy by Jodie and Ayesha, two 20-somethings, who live on the East coast of Australia.
At Kittyrobot, we love bright colors, Kawaii cuteness, and sweet vintage, and combine them all together, to create cute original jewelery pieces such as necklaces, earrings and rings, in fun designs like Robots, cupcakes, Tea cup cuties, and other adorable vintage inspired pieces.
At Kittyrobot, we also love to create pieces for those who want something a little different to use in their craft, in the form of handmade buttons, made from Clay, fabric covered, and even resin filled buttons full of real candy sprinkles, and glitter.

We love all things Quirky, bright and fun, with a mix of Kawaii, and Kitschy vintage, and cater to those who like something a little different, a little quirky, and a little fun!


1. What inspires you to come up with new designs? Mostly things I love, and then working to incorporate that into something cute, and wearable, or usable in craft! I don't really like to follow trends, I like to create things that I like, and think is cute! I also get inspired by vintage pieces, and cute artwork from the 40s and 50s era, as well as bright, bold, kitschy, kawaii cuteness.




2. How long have you been creating? I guess I have been creating since I was a little girl, I always loved making jewelery, and crafty things, in primary school we would sell those little pins with beads on them, and friendship bracelets, to other kids for fun! But creating, and taking it seriously, with Kittyrobot I have been doing that (with the other half of Kittyrobot, Ayesha) since 2007.




3. Where do you do your work? Do you have a dedicated area of your home, or? We do have a dedicated room, which I mostly use as a packing station, and workspace to work on the jewelery pieces. The spare room has a little nook, which is used to make the resin pieces, and sewn goods, but most of the time, we like to create in the living room, our house is old, and its always usually hot where I live, so its nice to create with the fans on, in the cool room,as well as a good movie, or tv show to watch while we create, and work.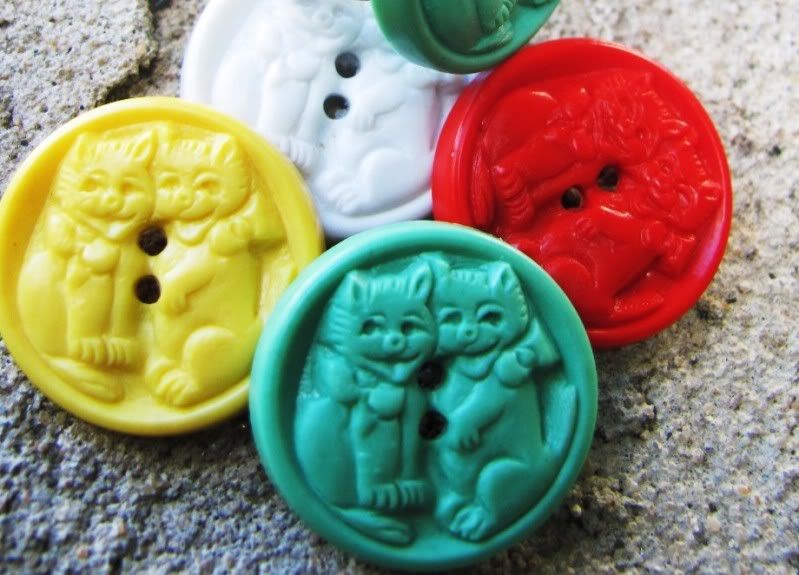 4. Tell us about a goal you have for your business I would love to expand a little on the designs and products we make, and maybe branch out, and start to approach some stores, to stock our goods both here in Australia and around the world, we have our stock in a couple of shops here in Australia, and one in the USA, but to branch out to more, well that would be pretty awesome.




5. What is your favorite album? I always hate to choose favorites, when so many are so important to me, but I would have to say Nirvana - In Utero.




6. Where do you see yourself in 5 years? Im hoping, in 5 years, I will be a happy work-at home mom, with a few beautiful happy kids to care for. Trying to mix family life, with running my little store. I know it can be possible, because I see so many others online who do it, who give me hope for the future, that the two can mix, and mix well!




7. What is your favorite thing to do on a weekend? A nice lazy day at the beach, with a picnic lunch, is always my favorite way to spend a weekend!




8. Tell us about a new skill you'd like to learn I would LOVE to learn how to crochet! I have some major envy for those who do it, and do it so well! Im determined to learn some day, mostly just to be able to crochet the super Kawaii Twinkie chan designs from her book!

-------------------------------------------------------------------------------------




Win a vintage kitten prize worth $20!
you'll get (both packets of the cute vintage inspired kitty button badges, and a vintage bakelite button necklace in your choice of color.)


To Enter;

Visit KittyRobot and pick your fave item, and leave it in a comment.

To qualify for additional entries you can..

3. Blog about this giveaway or the blog party
4. Follow this blog on GFC
5. Follow Papercakes on Twitter
6. Put my button in your sidebar
7. Tweet this giveaway
8. Like Paper*Cakes on Facebook
9. Share this giveaway in your FB status

Closes March 14th